Capture and submit prints… and more, in a Snap!
Thumbies® Snap™ is a simple-to-use app that utilizes your mobile device's camera to provide us with high-quality biometric scans and images.
Simply:
purchase the app from either the (iOS) Apple® App Store or the (Android) Google® Play Store for $12
follow the simple on-screen step-by-step instructions, and
submit your scans and images
The app assigns each image a unique Session ID# that is emailed to the recipient of your designation. You may use that Session ID# to order genuine Thumbies® and Buddies Pet Keepsakes® for your families, or, empower families to place their own orders by sharing the Session ID#s with them, saving you time and effort.
New Options!
In addition to taking images of human and pet prints, Thumbies® Snap™ also creates visualized soundwaves from recorded voices,
and captures handwriting images.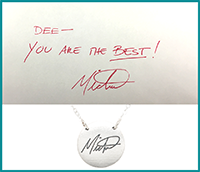 Both can be used in lieu of a physical print on our new Signature Series keepsakes launching October 28!
The Choice is Yours
In addition to this amazing new app, we will continue to fully support prints submitted as ink-on-paper and/or digital scans from our Thumbies® fingerprint scanners. You get to choose what method(s) work best for you!

Available now on the Apple® App Store and coming soon to the Google® Play Store.
Interested in becoming a Thumbies® Partner?
Visit this link for more information, or contact us at sales@thumbies.com.