Be the coolest cat (or dog, or lizard, or...) owner around with a Thumbies Elements™ Bar Paw Print pendant.
Thumbies Elements™ is a line of Zirconium ceramic keepsakes created through an advanced process known as ceramic injection molding (CIM). The material is sculpted into individual pieces using extreme heat and pressure to form shapes. The result is a keepsake that is silky smooth AND incredibly durable, offering many years of wear. The reflective surface never needs repolishing, just occasional light cleaning with a soft cloth.
Not plated or laminated, the Elements™ color runs consistently throughout the piece, creating a subtle tone-on-tone effect in a jet-black color. Once formed, the Elements keepsakes are personalized with a fingerprint, handprint, footprint, paw print, or nose print, resulting in a keepsake that can be carried and cherished for years. Paw Prints can also be added to an Elements™ Rectangle or Diamond design. This Bar design can also show a Nose Print.
A deluxe premium bail pairs with either our standard range of chains and cords or our Deluxe Leather Cord, allowing you to accessorize for any look.
Charmies™ Add-ons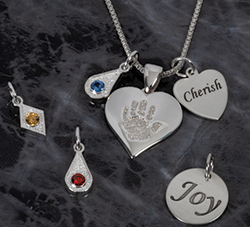 Take your personalization to the next level with these add-on charms that slide on our chains/cords (excepting the Deluxe Leather Cord). Made of solid Sterling Silver, pick either, or both, an inspirational word engraved on a round or heart-shaped charm, or a synthetic birthstone set in a Diamond or Teardrop shaped charm. Your options are detailed in the product builder on the right side of this page.
Free engraving is included in the price.
Please Note: Due to the engraving process used, Elements™ pendants cannot be re-engraved or corrected after creation. Please double-check all engraving information before placing your order.